Auto Loans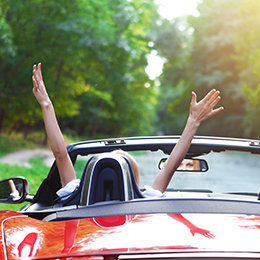 Solano First Auto Loans
Whether it's a car, boat, motorcycle, or other vehicle, we want you to get a loan that best fits your needs. Gas prices are down and inventory is up, so it's a great time to take a loan for a test drive.
Our local loan specialists will work with you to get you out of the dealership and into the driver's seat — fast.
We offer pre-approval, so you can approach the bargaining table with the confidence that comes from having cash in hand. Apply online or swing by to talk terms today.
Benefits

Competitive, fixed rates on new or used vehicles
Flexible terms and repayment options
Pre-approval available for extra bargaining power at the dealership
Refinance a vehicle loan from another lender to potentially lower your rate
Helpful loan professionals based right here in Solano County
Fast, local decision-making and processing
Attentive, friendly service from start to finish

Additional Coverage

Guaranteed Auto Protection (GAP) Insurance

GAP is designed to cover what your insurance company doesn't. If your vehicle is totaled or stolen, your insurance company will pay what they determine the value of your vehicle to be at the time. In many cases this amount is not enough to pay off your vehicle loan. GAP protection covers the difference between what you owe on your loan and what your insurance company pays. GAP not only covers automobiles, it covers motorcycles, boats, and RV's too. This product is affordable and in most cases can be added to your loan. Contact a member service representative for a free GAP analysis.

Payment Protection - Credit Life & Disability

Credit Life protection offers your loved ones piece of mind by paying off your loan balance up to $50,000.* Premiums are affordable and are conveniently included in your monthly payment.

Credit Disability protection makes your monthly loan payments until you are able to return to work.* Premiums are affordable and are conveniently added to your monthly loan balance.

*Contact a member service representative for full details and restrictions.